Case Studies
Designing the Future: a Scientific Approach for Quell
Audiologic Specifies QSC, Audinate & Shure for Biopharmaceutical Firm Quell Therapeutics Based at Imperial College (London) Campus
Introduction
Quell is an innovative life sciences company that was formed in 2019 to develop therapies for the management and treatment of a range of conditions such as organ transplant rejection, autoimmune and inflammatory diseases. On recently leasing new premises at Imperial College's White City campus, the business has been diligently designing and building its stunning bespoke laboratory and office space. It has been no surprise that at an innovation hub such as this, advanced audio-visual capability would always come into sharp focus – in a partnership that would involve Audiologic.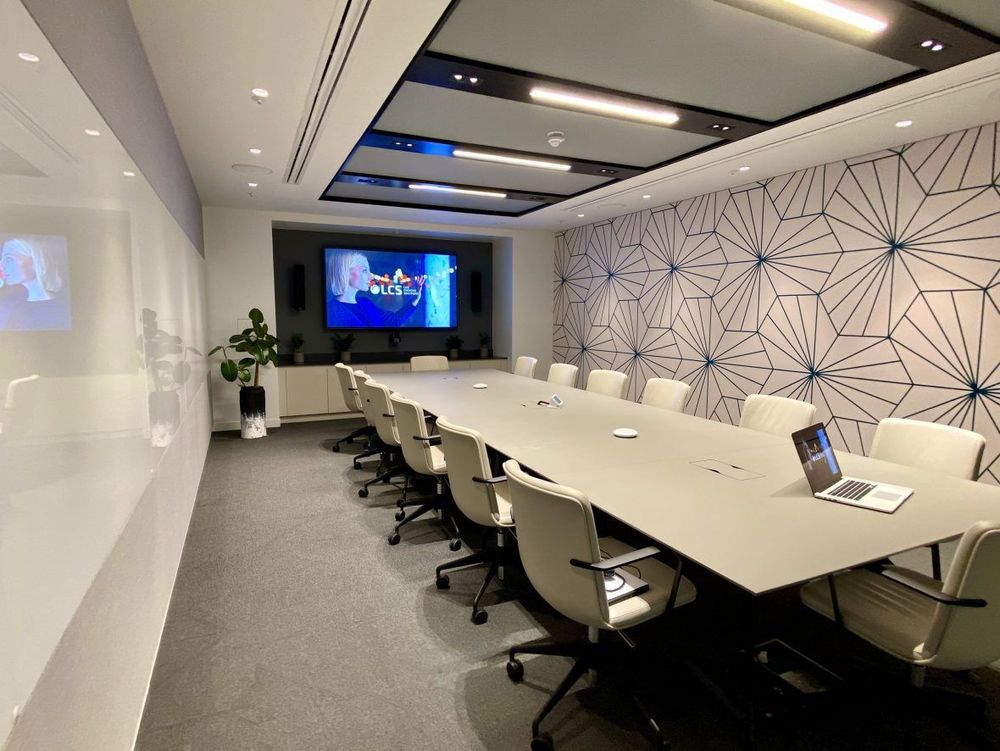 Project Overview
In a close collaboration led by integrators Live Creative Solutions, and including the appointed AV Consultant, Hoare Lea, a system was designed for the boardroom to provide Quell with a large flexible working space and an area to conduct video conference calls. The client required a large format display to share content in a space that could occupy up to 14 people. The content should also be able to be shared either through a wired connection or wirelessly. This area was also required to carry out large scale video conference calls with users bringing their own device to the room. The project consisted of a boardroom, two further small meeting rooms and a booth area.
The initial pre-tender design and equipment specification was carried out by Hoare Lea and the design was ratified to ensure it provided an advanced and future-proof system to reach and exceed all expectations. Together with the design team at Live Creative Solutions, a set of detailed schematics was presented for approval by Hoare Lea prior to the final installation, commissioning and programming.
Challenge
Key to this project, and an essential requirement, was that all equipment could be seamlessly integrated onto walls and into the meeting room table. Ben Spurgeon, Senior Application Engineer at Audiologic comments, 'in these types of installations, frequently aesthetics will take precedence over functionality and it often leads to compromised solutions. The best deployments are when we can work alongside architects/interior designers to deliver both an aesthetically subtle solution whilst not compromising the audio or video quality. In this case, the involvement of OD Interiors and the furniture contractor was a key factor leading to the success of this project."
Solution
The room had no facilities to install a small rack into so rack space was utilised in the main comms room adjacent to the boardroom, hosting a QSC SPA4-100W amplifier, a QSC Core 110F and four Audinate ADP-DAO-AU-0X2 Dante audio converters. To give full coverage and the quality of audio required in the space, two QSC AD-S802TB column speakers were specified and mounted either side of the 85" display screen as well as four QSC AC-C8T ceiling speakers. The speakers were wired directly back to the comms room using the containment provided by the main contractor, OD Interiors. The video conferencing solution was achieved using a QSC PTZ-12X72 camera mounted below the display and two Shure MXA310W microphones mounted on the table. In order for the user to be able to use their own device for carrying out conferencing calls, a QSC I/O Bridge was installed under the table allowing the user to select the camera and microphones through the settings of their video conferencing software.
Advantages
QSC's innovative solutions thrive in exactly this type of environment where enabling technology and audio-visual experiences intersect. Quell's exciting and important R&D and business needs match perfectly with this solution which meets the client's specific requirements for their new home.
Result
As part of LCS's client training programme, the client was given three training sessions for end users of different technical abilities to ensure that the transition to the new system they had been given would be seamless. Quell Therapeutics were delighted with the aesthetics of the result as well as the ease of use of all the functions. Having not had a large area to use in such a way before, they were happy that they could work more collaboratively and efficiently whilst maintaining communication with stakeholders in their other offices.
What we say...
Andy Lewis, Managing Director of Audiologic was equally pleased: "Audiologic and Live Creative Solutions have collaborated successfully over the years bringing together each of our areas of individual expertise to best meet the needs of the clients. It absolutely makes sense to create a partnership where we can properly integrate our capabilities to offer a full service that we feel will benefit all involved."

Andy MatthewsBusiness Manager (Ireland/Scotland), Audiologic
Neil Toben of Live Creative Solutions found the project very rewarding: "It was my role to ensure the system was delivered meeting all the client's requirements. This involved working closely with Hoare Lea to ensure the design was correct and OD Interiors to ensure all the equipment integrated with the wall and furniture finishes. It was also my duty to ensure procurement was completed on time and delivered to site at the correct time of the project, by working hand in hand with a supplier like Audiologic, I was able to resource the project efficiently."
(Written in association with Neil Toben, LCS)