Guides
Tech Tuesdays - Ecler Dante Peripherals
With the ever-expanding world of Audio over IP showing no signs of stopping, the demand for Dante based peripherals / converters also continues to grow. Whether utilising existing equipment or looking for ways to save costs, Dante peripherals can help to bridge the gap in any AV system.
Today, we're going to take a look at a few products available from our friends at Ecler, within the Dante portfolio.
First up is the Ecler DN44BOB. This is a four-by-four Dante digital audio interface (or Break Out Box), featuring four fully fledged mic/line inputs with pre's and four balanced line outputs. This rack mounted device is a great way to interface with analogue microphones and external program audio on the input side, and analogue-input amplifiers and assistive listening systems. With its Dante capability, this peripheral can sit in a rack across the building from a DSP while interfacing with any local equipment, all without breaking the bank.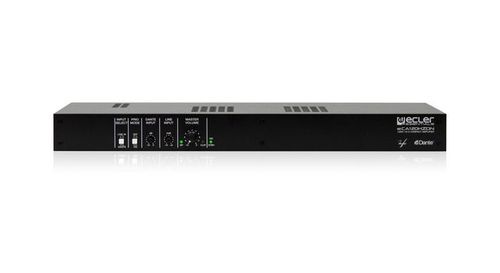 Next are the eCA Dante Amplifiers. There are two models in the range, the eCA120HZDN (single channel high impedance/100V) and the eCA120DN (two-channel low impedance). These are Class D, compact amplifiers, each equipped with Dante audio inputs and an unbalanced stereo input. There is a selectable priority function which allows you to select the analogue audio input as priority over the Dante input and vice versa, offering redundant configuration. These amplifiers are a great addition to a system as a cost-effective networked amplifier.
Finally, we have the WP22DN, a Dante compatible wall panel with two balanced mic/line inputs, and two Dante outputs. The inputs have a pre and phantom power capability making these ideal for microphone systems. The plate also supports either PoE or an external power supply for powering. The user-friendly format of the wall panel allows easy ad-hoc use for events or presentations, when getting into a rack isn't practical, whilst only running a single network cable!
All of these products are brand-agnostic and also support AES67. They also make a great pairing with the Ecler Dante matrix mixer DSP, the MIMO4040DN, as part of their Ecler Dante Ecosystem.
If you want to learn more about Ecler products, Dante audio bridging, or anything else, feel free to drop us a line at [email protected], or give the office line a ring!