Guides
Tech Tuesdays - Shure Stem Ecosystem: First Look
In last week's tech Tuesday video, we were introduced to the Stem Ecosystem Range by Shure. This week, we will be taking a deeper look at the products within this range and the applications which they are best suited for.
Stem Speaker
This device is a networked loudspeaker that can be mounted to a wall, standing on a table or flush-mounted into the ceiling. This speakers' powerful drivers can offer great sound reinforcement within your meeting space. The Stem Speaker can also be used to play program audio or even just provide background music for the room.
Stem Table
The Stem Table is a small speakerphone device with 9 beamforming microphones. This device produces 360-degree coverage making it perfect for placement at the center of a meeting room table and other flat surfaces. The Stem Table is suitable either on its own in smaller huddle spaces or even combined with a secondary table device for a slightly larger space with more people.
Stem Wall
The Stem Walls design is optimised for convenience. It keeps the microphone off the table and minimises pickup of air conditioning units, noisy projectors, and general participant noise such as paper rustling and tapping. The Stem Walls 15 beamforming microphones provides wider horizontal coverage, making it ideal for more medium sized conference rooms or even larger meeting spaces and classrooms when combined with a second wall unit.
Stem Ceiling
With 100 built in microphones that allow for broader coverage, the Stem Ceiling is perfect for large spaces. However, the Stem Ceiling can be configured to suit the size of the room it is in. The beam coverage options available for this device allow for adaptable coverage which can be great for multipurpose rooms where the layout of the room can often vary. This device can even be switched to a 'Narrow' pickup angle and placed directly above a lectern or a podium. This can be ideal for use in lecture theatres or presentation rooms where you may only want to directly capture the person who is speaking at the front of the room.
Stem Hub
The Hub is the 'Brains' of the system which acts as the communication center between multiple audio devices in a room. In fact, a single Hub unit can host up to 10 audio devices within a single room. This device takes the audio from each of the microphones and presents it as a single audio signal through the USB connection to your PC or a single Dante channel through the RJ45 Dante port. Its low-profile design means that it can be mounted behind a display or placed in a cupboard.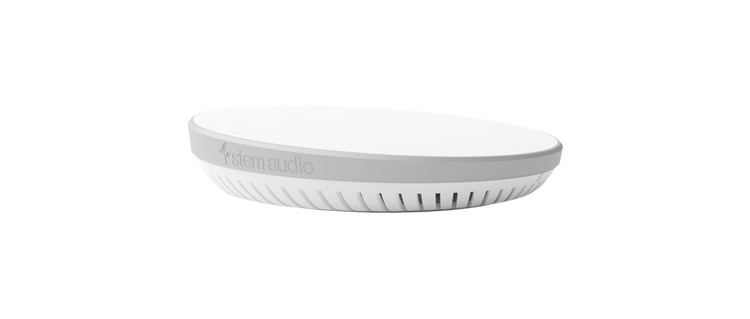 Stem Control
The Control is one of the main points of access for the Stem Ecosystem platform. It is ideal for systems that require a dedicated meeting room controller. This device allows for easy integration with your chosen video conferencing platform for touch-to-join meetings and even has a dial pad for SIP audio calls.
Each product within the ecosystem is PoE with built in DSP which allows for the devices to perform AEC, AGC, de-reverberation and noise cancellation. With its seamless design and simple installation, the Stem range shows that better audio does not need to be complicated.
If you want to learn more about the Stem Range, then feel free to contact us at [email protected] or give our office line a call!