Case Study
Audiologic supply state of the art AV equipment for new Marsh McLennan hybrid working space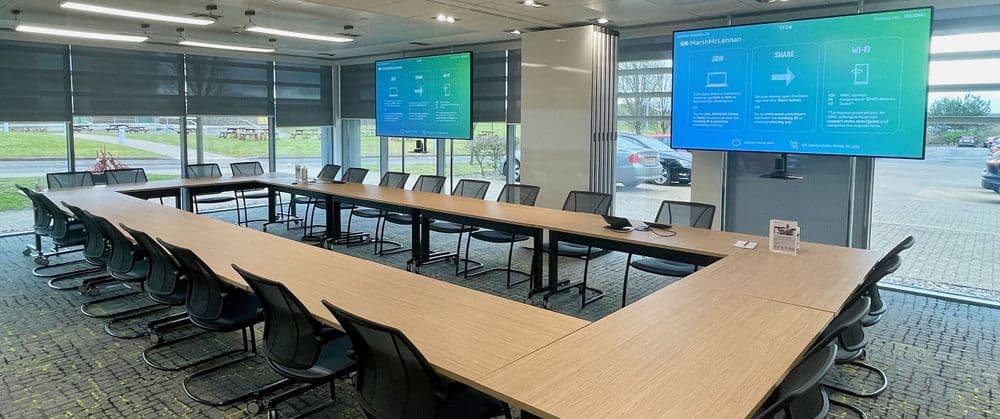 Latest Shure, Q-SYS and Yamaha audio technology specified for new office by Insight Visual Systems. Marsh McLennan, the world's leading insurance broker and risk adviser, made the decision last year to move their office out of Norwich city centre to create a more flexible working space to meet the needs of evolving hybrid working patterns.
Since the pandemic began, workplaces are adapting to meet these new requirements, and in this case Marsh McLennan approached Insight Visual Systems to lead the project. The space was completely refurbished with state-of-the-art furniture, and audio-visual technology equipment, sourced from Audiologic.
Matthew McGill from Insight said "We pride ourselves on our ability to deliver a bespoke service that reflects our client's identity, whilst also resonating with their values. For this project we needed to provide a seamless AV experience that met Marsh McLennan's global AV standards to ensure consistency across their regional offices. As our audio supplier, Audiologic helped us to deliver these standards"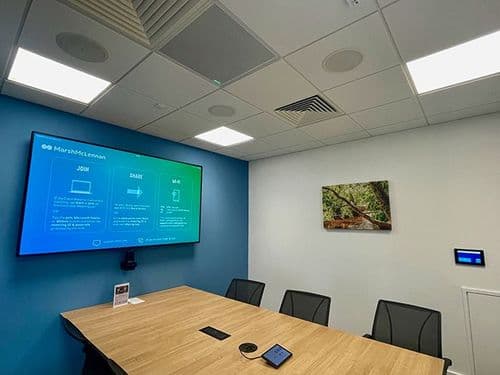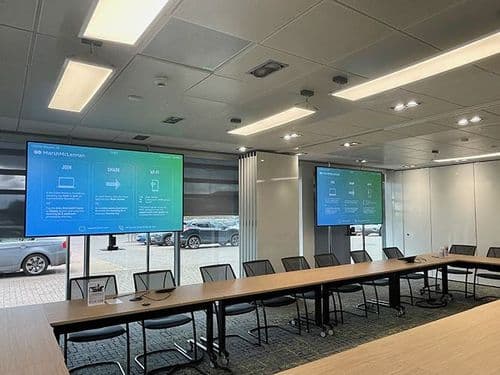 Marsh McLennan aimed to have a variety of different workspaces for collaboration, including hot desks, divisible and non-divisible meeting rooms with integrated video conferencing, lounge areas and huddle spaces, to create a dynamic and modern environment for employees, with seamless AV solutions to support hybrid working.
The audio equipment selected for the divisible meeting rooms included the Shure MXA910 microphone, Q-SYS Core Nano audio, visual & control (AV&C) processor, SPA2-200 two-channel amplifier and a pair of AD-C6T-WH two-way ceiling mount speakers. For the control element in the divisible spaces, Q-SYS TSC-80w-G2 touch screen controllers were used and designed with a simple interface so the end-user could control meetings easily.
In the non-divisible meeting rooms, Marsh McLennan opted for the Yamaha RM-TT-B tabletop array microphone and the Yamaha ADECIA RM-CR signal processor.
As a trusted partner, Audiologic provided all the audio equipment for the project. Matt Nettlefold, Business Manager at Audiologic commented: "We have supported Insight on a number of projects, they know as a brand partner we have the knowledge and expertise to supply the best equipment for each bespoke project and we are always on hand to support from initial bid to post-install."
The Q-SYS Core Nano processor extends the applications of the Q-SYS Platform into a wider range of smaller-scale installations across corporate, higher education, healthcare and beyond, designed for applications with lower network channel capacity and/or targeted processing requirements.
Based on Dante audio networking, Yamaha ADECIA helps organisations overcome challenges with implementation, configuration and room acoustics by providing all components required for a successful installation and operation - designed to work seamlessly together to reduce set up time, costs and complexities - to get a professional, high quality audio experience.
Find out more about the Core Nano here and about ADECIA here.