Case Study
Audiologic works with ABC AV to deliver an immersive and futuristic experience at The National Space Centre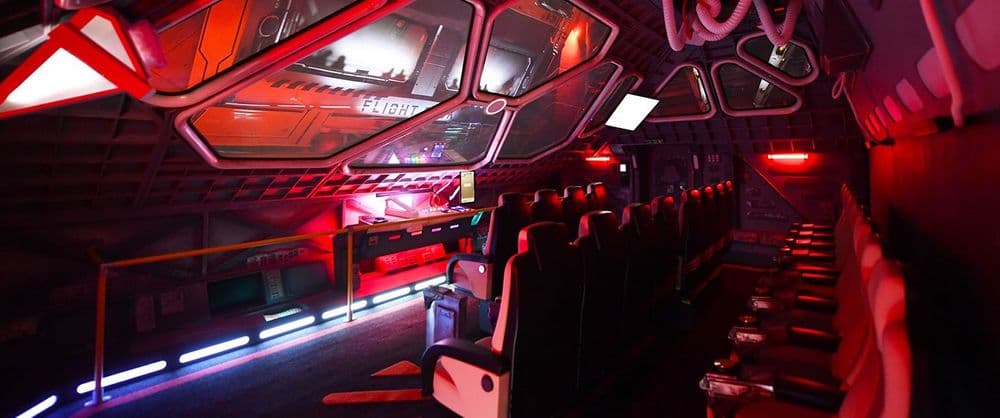 Audiologic are proud to announce our work with ABC AV to launch a new permanent space themed immersive experience at The National Space Centre. Prepared to launch on a low Earth orbit cruise with Tetrastar Spaceport, visitors accidentally find themselves on a rescue mission to Mars. The team must work together to retrieve important research, survive disaster, and escape back to Earth.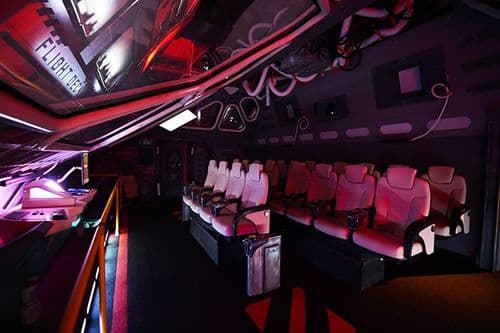 Tetrastar Spaceport combines immersive theatre, actors, realistic set design, projection mapping, spatial audio, real-time interactive content, motion seats and hands-on interactives with immersive storytelling.
The 300m2 experience plays out across four main zones with 10 additional themed spaces allowing four concurrent pulses of 20 person groups. 11 projectors, 47 screens, 45 speakers, 50 media servers and computers, and 15k mapped RGBW LED pixels are seamlessly blended into the intricate set work and woven together under a family friendly, exciting space themed narrative.
Everyone feels like part of the interactive mission which is supported by pre-recorded characters in the media, real-world performers, and an artificial intelligence "ADA". In most attractions the excitement would be over after the big ride moment, but this is just half the experience. The visitors get to take part in an escape room style experience where they must retrieve valuable specimens
and power up the Tetrabank with Tetracells to ensure they have enough energy to get back to Earth in the escape pod!
With a maximum throughput of 1,400 people a day, the summer holiday space explorers scored this new 20-minute immersive experience 10/10, the next step is to release the enhanced one hour schools mission in the Autumn of 2022. A flight is included in the general admission to the centre and is suitable for over 5's, although some restrictions apply.
The attraction design and creation were led by the National Space Centre in-house immersive production studio NSC Creative, working collaboratively with a team of UK experts including ABC AV and Audiologic. NSC Creative provided overall project management and creative direction along with specialist immersive AV integration and all the story, content, and performance production.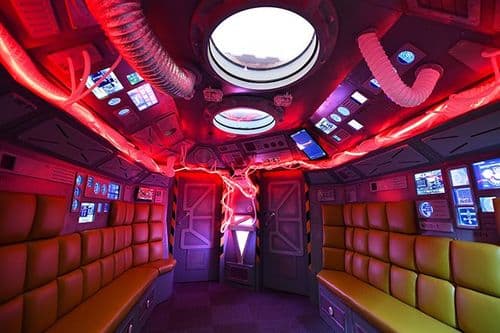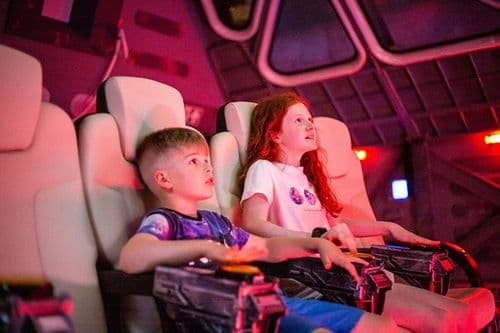 Anna Shahin, Application Support Engineer at Audiologic, explains: "This was a very exciting project to work on with ABC AV and NSC Creative! The system required speakers to blend in with the futuristic aesthetic, making the K-array ecosystem an obvious choice. The Kobra KK52, KK102's and Rumble KU210 subwoofers made for an immersive 7.2 surround sound system in the show stopping Tharis One spacecraft room, and the Vyver KV52's and Rumble KU26 created a 5.1 experience in the Transporter. The KF26 Domino speakers throughout the rest of the system provided full range, crystal clear audio to attendees racing through the rescue mission.
The National Space Centre has a Q-SYS Core 510i running their other systems on site, and its available DSP headroom and open architecture platform made this the best choice to run Tetrastar Spaceport. Due to the expansive custom audio requirements, a media drive and multi-track player upgrade was added to the processor as part of the new system."
ABC AV led the AV, lighting and show control systems design and integration of the media rich experience. Andy Bates, CEO, ABC AV states: "Working with Simon, Anna, Diogo and the other engineers at Audiologic made perfect sense because they knew the entire product offerings across the K-array, Innosonix and Q-SYS ranges and they were able to balance the right mix of products and features required, while still fitting in the project budget. Also, the simple integration of control of the Q-SYS Core processors with the Medialon Show Controller made integrating it all together a
relative breeze. I'm very proud of our involvement in this project and think it is an incredibly special immersive and educational space.
Dave Wooster, Director, 2BHeard Limited explains: "2B Heard assisted with initial room designs using K-framework 3D Modelling software, followed by proof-of-concept demonstrations as well as attending site to commission the simulator speakers system. The combination of K-arrays slim true line array systems coupled with their amazing performance led to a system that both visually and acoustically perfectly matched system to project."
Paul Mowbray, Project Director, NSC Creative comments: "By selecting the best people in their fields we were able to put together an experienced team of specialists all working together towards the goal of suspending the visitors' belief and transporting them to Mars and back on a wild space mission."
Andy Bates, CEO, ABC AV adds: "Tetrastar is like a mini science centre packaged into one exhibition. The complexity of the show control and AV system is next level to ensure every mission goes successfully even if the participants don't always achieve their objectives! Every action triggers a response and feeds into a scoring system that gives a unique outcome and award at the end of each mission to encourage repeat visits."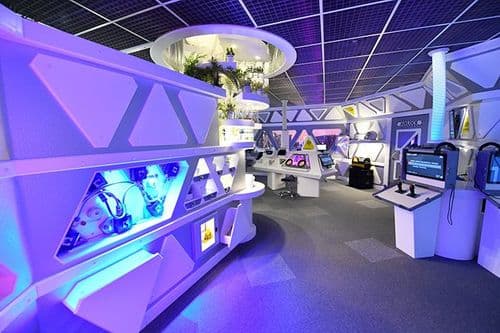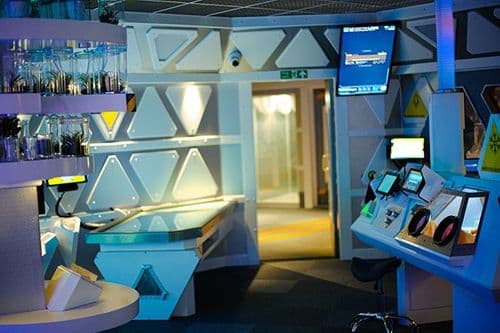 The £2.88m project 'Extended Reality for new Audiences' also included a new Reality Lab teaching about space and a XR infused Community Engagement Programme at the National Space Centre. It was supported by the Inspiring Science Fund – a partnership between the Department for Business, Energy & Industrial Strategy (BEIS), UK Research and Innovation (UKRI) and Wellcome, as well as the Local Growth Fund from Leicester and Leicestershire Enterprise Partnership (LLEP), The Royal Commission for the Exhibition of 1851, The Garfield Weston Foundation and Fidelity UK Foundation.