News
AV Awards Distributor of the Year 2023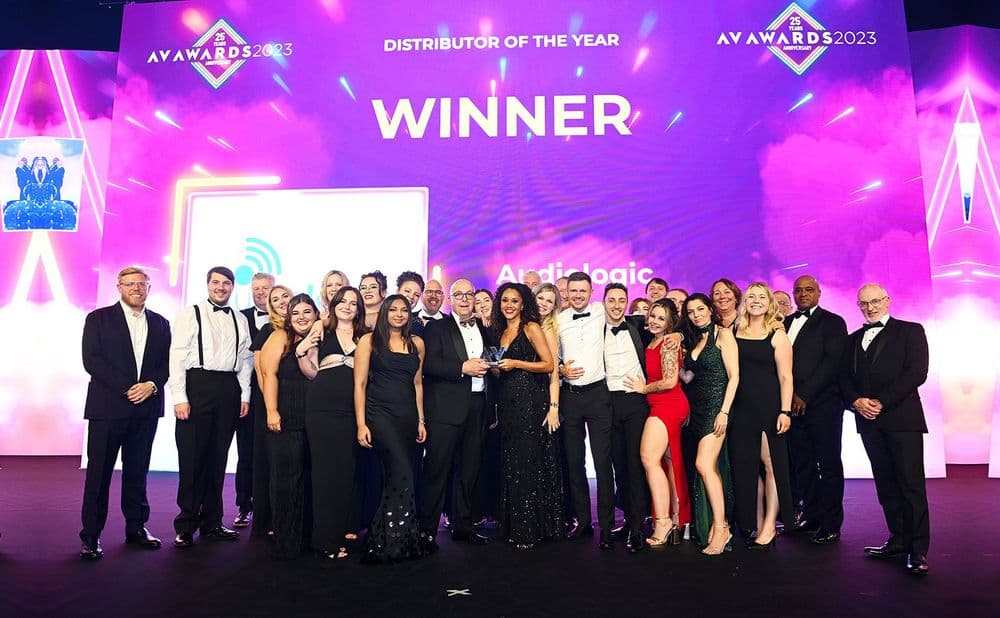 Just under a week ago Audiologic was fortunate enough to have won this years AV Awards, Distributor of the Year. Owing the Award to it's employees, suppliers and customers, we reflect on our award entry and what we believe to be the stand out reasons for winning.
Through Audiologic's recent acquisition by EAV Group, Audiologic has further strengthened it's position in the industry. The shared vision and alignment of values between Audiologic and the EAV Group have propelled them to reinforce and enhance their core values as a distributor. With a diverse portfolio of brands, tailored solutions, technical expertise, comprehensive support, Audiologic continues to stand out in the industry.
We take pride in our experienced team of engineers and project experts who are committed to supporting customers during potentially complex audio deployments. Whether customers require the expertise of an Application Engineer or simply need us to provide quotations, source, and supply class-leading brands, Audiologic is there to support them.
As part of the EAV Group, which we joined through acquisition in 2022, our future business strategy involves reinforcing and strengthening the core values that Audiologic upheld before becoming part of the Group. Our acquisition was driven by the shared vision and alignment of values.
Audiologic is proud to recently introduce Manage+, our cutting-edge managed services platform that brings a new level of innovation and excellence to the world of AV systems. Through Manage+, we empower our customers to achieve their goals by ensuring their AV systems are always performing at their best, while providing valuable insights and cost-saving benefits.
Audiologic is not only committed to being a leader in the AV industry but also strives to create a great working environment for its employees. When Audiologic was acquired by EAV, it underwent an assessment against the Group's values and DNA, with a strong emphasis on people. This assessment resulted in several initiatives that showcase Audiologic's dedication to its employees and their personal development.
One of Audiologic's notable strengths is its focus on its people. The company places its team members at the forefront, recognising that their knowledge and expertise amplify the brand equity of the entire organisation. By sharing their expertise with customers through various platforms, Audiologic creates a culture of learning and collaboration.
Audiologic maintains a healthy mix of team members, combining young professionals on a trajectory towards future leadership roles with industry veterans. This diverse blend of experience ensures a dynamic and vibrant work environment. Younger team members benefit from the guidance and mentorship of seasoned professionals, while industry veterans are invigorated by the fresh perspectives and innovative ideas brought by the younger generation. This mix fosters personal development and continued motivation within the team.
In terms of gender diversity, Audiologic stands out from the competition with its well-balanced gender mix. The company takes pride in its inclusive workplace, with 56% men and 44% women, including a noteworthy 50% split of women in engineering roles. This gender parity demonstrates Audiologic's commitment to providing equal opportunities and fostering an environment where everyone can thrive and contribute their unique perspectives and talents.
Audiologic actively promotes inclusivity and diversity through various initiatives. For instance, the company celebrates International Women's Day by organising events and workshops. One notable event is the Celebrating Women in Audio workshop, where Audiologic's own Anna Shahin leads the Dante training. This event not only acknowledges and supports women in the audio industry but also highlights Audiologic's commitment to empowering its employees and creating opportunities for their professional growth.
By prioritising its people, fostering a diverse and inclusive workforce, and providing opportunities for personal and professional development, Audiologic strives to be a fantastic place to work. The company's dedication to its employees aligns with its overall goal of delivering exceptional products and services to its customers in the AV industry.