Case Study
Genelec Smart IP Sound with Q-SYS Control Bring Arcadia Ale House to life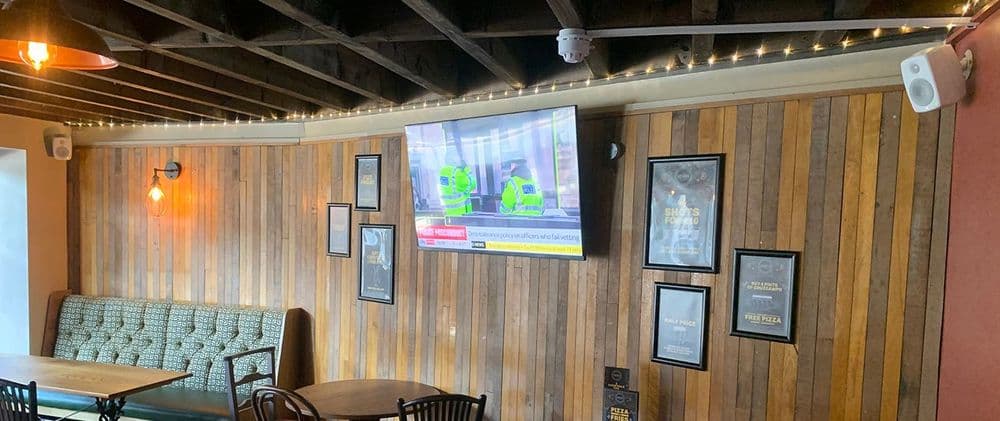 Arcadia, the newly refreshed urban ale house nestled in Headingley, Leeds, is offering patrons an improved atmosphere, thanks to an extraordinary audio and video system transformation. Market Town Taverns, a division of Heron and Brearley and the owners of Arcadia, collaborated with immersive space experts Full3Sixty and Audiologic to bring this vision to life.
Previously relying on a single bluetooth speaker to serve as the sole audio source for the entire venue, Arcadia sought a quality audio distribution solution as a key aspect of its refurbishment project. Recognising the pivotal role that quality sound plays in shaping the atmosphere and increasing customer engagement and dwell time, the venue prioritised a high-quality, user-friendly audio system with seamless control for new sports screens.
Chris Jones, Senior Technician at Full3Sixty, elaborated on the project's unique requirements, stating, "Given the intimate, distinctive character of the venue, our client desired discreet audio with exceptional clarity and a robust SPL, all while adhering to budgetary constraints."
Collaborating with Simon Jones, Business Manager at Audiologic, the decision was made to opt for Genelec IP speakers, which were deemed the ideal solution to meet the project's needs. Leveraging network-based equipment not only reduced the hardware cost, but also enhanced flexibility for potential future requirements.
The installation featured 8 x Genelec 4410A Smart IP Installation Speakers, with control facilitated by a Q-SYS Core Nano audio, video, and control (AV&C) processor.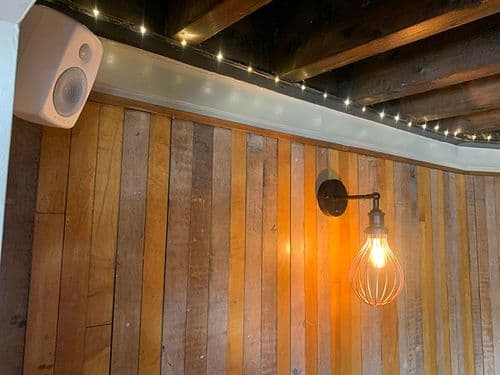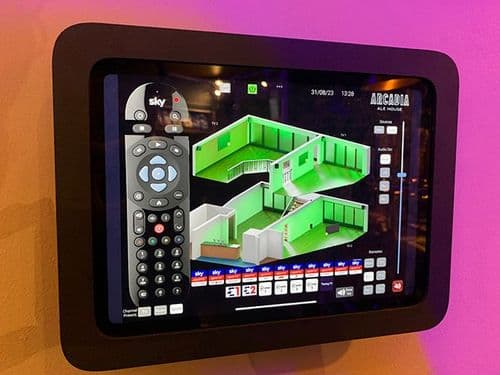 Chris Jones further explained the benefits of the IP-based system, saying: "Utilising IP technology also future-proofs the setup, accommodating evolving requirements. This means audio cabling can be repurposed for video distribution or vice versa. Incorporating new equipment into the system is quick and straightforward, minimising potential downtime for updates or upgrades."
Simon Jones added: "The Q-SYS Core Nano is designed for applications like Arcadia, with lower network channel capacity and/or targeted processing requirements. Coupled with the powerful super-compact Genelec 4410A speakers, which deliver the single-cable networked convenience of Smart IP, the venue enjoys a robust, maintenance free system delivering superior video and audio, all under easy control."
Q-SYS allowed for maximum flexibility of the zones in the Arcadia Ale House, with independent volume controls in each zone and the intuitive UCI interface grants the flexibility to route any source to any destination effortlessly.
Chris Jones adds: "Genelec's exceptional 4410 series of IP speakers formed the audio backbone of our audio solution, offering remarkable clarity and impactful sound. Genelec's IP Manager software simplified speaker set-up and calibration, ensuring straightforward installation. The size and quality of the Genelec cabinets is unrivalled - we recognised an IP solution was the optimal way forward for this project."
Consistency and repeatability are paramount for Market Town Taverns, as they want to implement the same solution across their other pubs and bars. The scalability inherent of an IP-based solution allows for an unlimited number of audio and video endpoints, allowing for future expansion.
Chris Jones concludes: "While Full3Sixty typically builds immersive classrooms, we've diversified into general AV installations due to our extensive AV background and knowledge. Arcadia Ale House now boasts a cutting-edge audio and video infrastructure, ensuring an immersive and dynamic environment for patrons. The integration of Genelec Smart IP sound with Q-SYS Control stands as a testament to Market Town Taverns' commitment to enhancing the customer experience."