Brands
We have a huge range of stock from a variety of trusted brands, meaning you'll always find the right product for your project.
We pride ourselves on selecting the right kit for the right job. We will never upsell or recommend a product we don't truly believe will deliver for your project.
Explore our brands and see how we can help you in your next project!
We're also exclusive stockists for: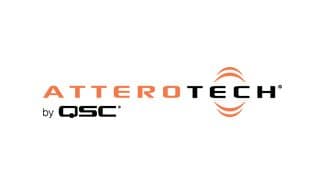 Attero Tech by QSC is a company providing a highly inovative portfolio of networked AV endpoints and I/O peripherals for QSC's Q-SYS ecosystem.
Originally founded in 2005 by eleven engineers in the US, Attero Tech grew into a global provider of innovative, cost-effective audio networking I/O endpoints and AV connectivity solutions.
What we say...
This is such an exciting time for QSC and Attero Tech. We work to support this integration strategy as it prioritises the needs of all our customers, ensuring we provide a positive experience for those looking to embrace opportunities for further integration.

Andy LewisManaging Director, Audiologic
Latest from Attero Tech